MESHA® INSTALLATION HANDLER
The MESHA® installation handler is a mechanized unrolling device designed to install high-tensile MINAX® meshes. The mesh itself is delivered in rolls which are mechanically handled into position for installation. This system requires minimum manual handling for installation of mesh to underground backs and walls.
MESHA® installation handler
FOR FASTER AND SAFER OPERATIONS
MESHA® INSTALLATION HANDLER – FOR A FULLY MECHANIZED INSTALLATION OF MINAX® MESH.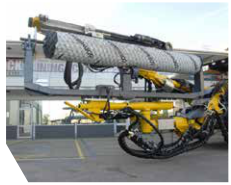 MESHA® can be retrofitted to any multiboom underground jumbo or roof bolting drill rig. With a quick release system, the jumbo can be transformed from a development rig to a full scale ground support rig within a matter of minutes.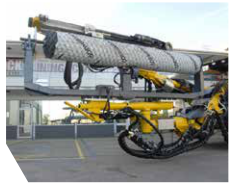 Using the MESHA® installation handler system, mesh can be installed up to 40% faster than the standard practice of sheet meshing in the underground environment. Furthermore miners are not exposed to the unsupported area during the installation.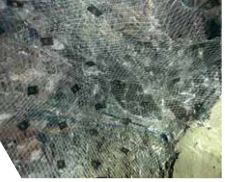 Surface supported with MINAX® 80/4 mesh: One single wire has a tensile strength of more than 1770 N/mm2 limiting deformations and keeping the mesh highly pre-tensioned.

Simple construction
Easy to use with any jumbo or bolter: The MESHA® is installed with common tools. It is able to work with drills installed parallel on one boom without any mobilization costs and can remain onboard.

Mechanized unrolling
No laborers working in the endangered zone: The mechanized unrolling* of MINAX® meshes allows perfectly controlled, fully safe installation and tensioning of the mesh on the rock surface.

Proven reliability
Reliability and durability: The functioning of the MESHA® system has been proven through practical operations all around the world.

Low weight
Continuous operation possible: Thanks to low weight more mesh can be loaded at once, longer operation is possible and less manual work is required.