SL Shallow Landslide Barrier
Flexible barriers made of high-tensile steel wire
EFFICIENT SHALLOW LANDSLIDE PROTECTION
FOR THE MOST VALUABLE ASSET IN LIFE: OUR SAFETY.
Data from meteorologists shows us that global warming is leading to heavy precipitation occurring more frequently and to rising snow lines. These additional masses of water in natural environments elevate the risk of shallow landslides, which have the potential to disrupt traffic routes and cause significant damage to buildings.
We have developed flexible shallow landslide barriers made of high-tensile steel wire netting and mesh as a means of preventing exactly this type of near surface landslide. Large-scale field tests have proven that these systems provide efficient, reliable protection against both shallow landslides and rockfalls. The barrier is the only mitigation solution of shallow landslides worldwide with a dedicated CE marking. Their lightweight structure and straightforward, cost-effective method of installation make them an outstanding practical choice.
WE CAN PROVIDE YOU WITH THE COMPLETE SAFETY PACKAGE.
At your request we can take on the role of consultant, planner and even project manager. Both the solutions we offer and the quality of our customer service is valued by our customers. For us, excellent service is an integral part of every single project. No matter which phase of the project you are in, we will provide you with the support and expertise required to achieve the best results – saving you both time and money
ALL ROUND CARE:
Local contact person
Training and workshops
Rapid inspection and proposed maintenance measures in the event of an incident
PLANNING SUPPORT:
Terrain survey and appraisal
Risk assessment and analysis
Solution dimensioning
Tailored planning
APPROVAL
Project survey
Final inspection and approval
Handover to client
IMPLEMENTATION
Staking out of the structure
Specific adjustments
Installation instructions on site
Optional installation
PRODUCTION:
Customer specific manufacturing, pre-assembly, and packaging
Personalized delivery schedule
Delivery on time and on budget
CONSULTING
Alternative solutions
Pros and cons
Cost efficiency
LIGHTWEIGHT SYSTEM MADE OF HIGH-TENSILE STEEL WIRE – WHEN STRAIN IS AT ITS HIGHEST.
Efficient shallow landslide protection for infrastructure
Our flexible shallow landslide barriers reduce the risks associated with landslides on steep, unstable slopes. The system's low deflection levels make it possible to install the barriers close to the object requiring protection – saving the need to set up any additional construction sites on transportation routes.
What makes our protection systems especially economical is that the installation requires only minimum construction and excavation work. Once the barriers have been installed, there is no need for any specific object protection measures such as building reinforcement.
QUALITY YOU CAN RELY ON.
We offer two barrier types as a means of protecting slides that occur near the surface: The SL-150 shallow landslide barriers are designed to withstand dynamic pressure of 150 kN/m2 and features our SPIDER® spiral rope net, which works in conjunction with a secondary mesh to hold back landslides. The SL-100, meanwhile, uses the high-tensile and more closely meshed TECCO® G65/4 mesh as a protective surface, this barrier is able to absorb a maximum dynamic pressure of 100 kN/m2.
What both versions have in common is that they can be installed with minimal resources, offering considerable savings in terms of cost and construction time. The components can be flown into even hard-to-reach terrain with a helicopter – no heavy machinery or earthwork is necessary. But it doesn't end there: Our protective system barriers are also highly environmentally friendly, as they have minimum ecological impact on the natural surroundings and are barely visible from a distance.

High-tensile steel wire netting and mesh
The barriers absorb both high dynamic and high static pressure at the same time. Their flexibility keeps maintenance work to a minimum, while the low deflection levels make it possible to install them close to the objects requiring protection.

Highest safety standards
The first and only approved (ETA) solution against shallow landslides with CE marking*. Large-scale field tests have proven that the barriers are able to hold up against several impact events involving complete filling.

Rockfall protection
Shallow landslide barriers are often used in exposed terrain where rockfalls may occur. Our solutions are therefore designed and tested for rockfalls with 500 kJ.

Simple design
The barriers can be adapted to suit local conditions and their lightweight components enable cost-effective installation.

Protective mesh apron
A high-tensile steel mesh apron prevents material flow between the bottom support rope and the ground. It is easy to maintain, efficiently protects the barrier foundations from erosion and maintains the slope geometry during landslides.
WE DON'T LEAVE SAFETY TO CHANCE.
Our barriers have to withstand a lot, so we reproduce the forces created by shallow landslides in extensive testing and simulation processes. Data relating to flow behavior and the dynamic impact of earth masses have enabled us to construct flexible barriers that are up to the job. We have even conducted in-depth investigations into the effects of multiple loads, such as effect of rockfalls on shallow landslide systems.
Carried out in conjunction with the Swiss Federal Institute for Forest, Snow and Landscape Research WSL (ETH), these tests, replicating realistic conditions in three specially designed facilities, have proven the performance of our shallow landslide barriers. Not only that, the findings and measured data have also provided a valuable basis for developing our SHALLSLIDE dimensioning tool .

TECHNICAL DATA:
SPIRAL HALAT AĞI İLE TOPRAK KAYMASI ÖNLEME BARİYERİ:
SL-150
Maks. sönümlenebilir dinamik basınç * 150 kN / m
TECCO G64/4 AĞ İLE TOPRAK KAYMASI ÖNLEME BARİYERİ:
SL-100
Maks. sönümlenebilir dinamik basınç * 100 kN / m
WSL (ETH) tarandan izlenen, kesin koşullar alnda test edilen sığ heyelanların teklediği basınç.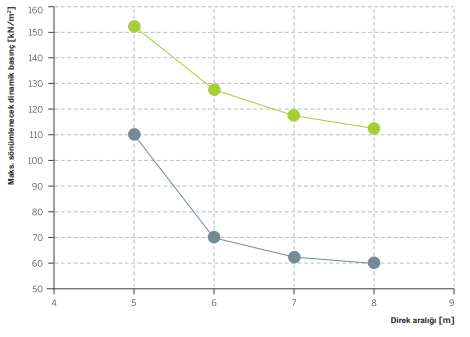 | SPECIFICATIONS | SL-100 | SL-150 |
| --- | --- | --- |
| Dynamic pressure resistance | 100kN/m2 | 150 kN/m2 |
| Standard installation height | 4 m | 3.5 m |
| Standard span width* | 5 m – 8 m | 5 m – 8 m |
| Ring net type | HEB | HEB |
| Mesh/net type | TECCO® G65/4 | SPIDER® S4-130 |
| European Assessment Document* | EAD 340020-00-0106 | EAD 340020-00-0106 |
| European Technical Assessment | ETA 16/0448 | ETA 16/0448 |
| Certificate of constancy of performance | 1301-CPR-1227 | 1301-CPR-1227 |