MINAX® 80/4
FOR THE MOST VALUABLE ASSET IN LIFE: OUR SAFETY
Minax® 80/4 mesh provides surface support in rockburst conditions or squeezing ground offering both an efficient installation and reliable protection with the most competitive cost-performance ratio. It was developed to withstand high static loads and absorb dynamic impacts. In addition our mesh offers significantly higher static and dynamic capacity compared to mild steel mesh or shotcrete
MINAX® 80/4 MESH – MADE TO WITHSTAND HIGHEST LOADS.
Results of quasi-static tests made by the Western Australian School of Mines (WASM):
MINAX® mesh with a wire tensile strength of 1770 N/mm2 can carry very high static and dynamic loads (graph based on WASM results).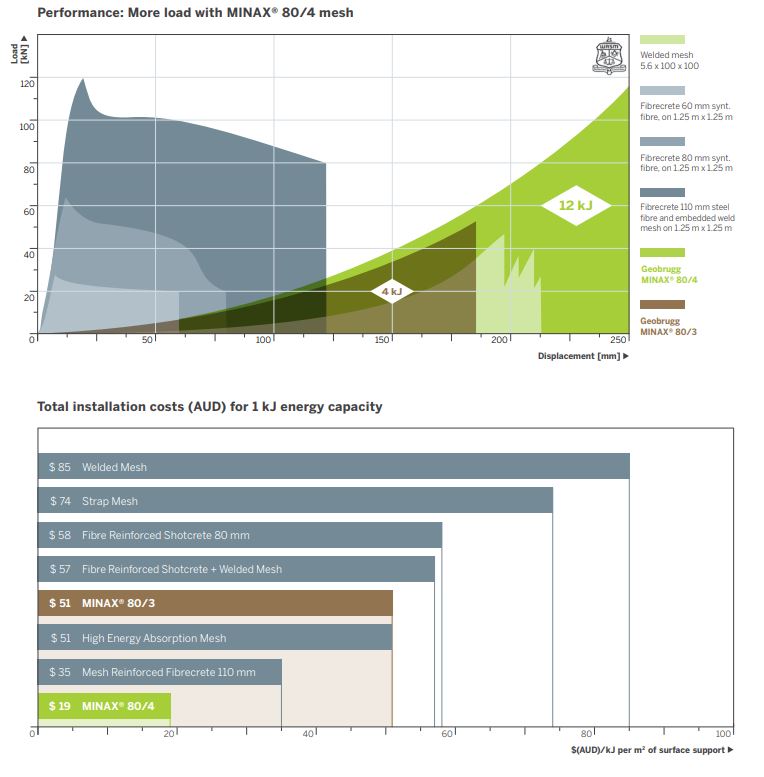 Less overlap, increased bolt spacing, greater savings
Knotted ends at the edges of the mesh allow minimized overlapping on the rock surface. This leads to a highly effective installation saving both on mesh and time.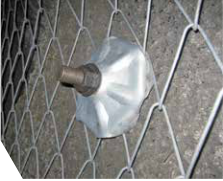 G-Plate®
For optimal load transmission from the rock bolts to the MINAX® mesh. The special spike plate grabs the mesh in 6 positions assuring optimal load transfer, also during blasting works.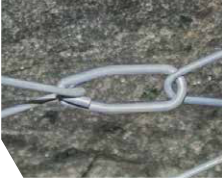 T3 connection clips
For a tool-less connection the T3 clip connects the mesh when necessary, ensuring 100% load transfer.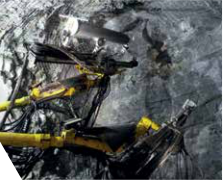 MESHA® installation handler
For a fully mechanized installation of Geobrugg mesh in one working process. The MESHA® can be retrofitted to any development jumbo or bolting machine, without losing a boom for drilling.
QUALITY YOU CAN RELY ON.
Foundation for our solutions is steel wire with a high tensile strength of minimum 1770 N/mm2. Compared to mild steel wire our high-tensile wire offers at least three times higher tensile strength. It is characterized by high mechanical resistance, very high energy absorption capability and long life. Designed specifically for the underground mining industry, MINAX® 80/4 offers unparalleled quality through performance, that is synonymous with the Geobrugg name worldwide. We provide MINAX® 80/4 with tailor made corrosion protection solution taking into account your specific mining conditions.
The MINAX® 80/4 mesh provides the following features:

High-tensile steel wire
For high load capacity: Both static and dynamic capacities (e.g. while blasting) are higher compared to other surface support meshes/nets.

Balanced stiffness
Very high load capacities (both static and dynamic) with optimal deformations, not endangering tunnel clearance.

Rhomboidal chain-link structure
For easy handling and storing: Manual and mechanized installation by unrolling with any mechanized technology.

Low weight
For fast installation: Very light relative to its strength due to the high-tensile wire. This makes manual or mechanical installation very easy and improves the occupational health and safety.

Knotted ends
For maximum stability at the edges: Profit from minimized overlapping, optimized number of rock bolts and no sharp edges.

Cutting edge corrosion protection
Whether hot dip galvanized, ULRACOATING®, SUPERCOATING®, stainless steel, PET coated wire or more: After our analysis of the environmental conditions in your mine, we offer the corrosion protection solution, according to your specific needs.
ALWAYS READY FOR YOUR REQUEST.
What makes our systems particularly economical, is Geobrugg's global network – and therefore the local availability of our products. With close proximity to our customers we produce meshes on four continents with precisely controllable state-of-the-art technology. This not only allows top quality at a very attractive price, but also reduces the logistic expenditure, enables short delivery times and provides flexibility to adjust the level of capacity to the customers' needs.
| SPECIFICATION | MINAX® 80/4 MESH |
| --- | --- |
| Mesh shape | Rhomboid |
| Mesh opening | 80 mm (+/- 3%) |
| Mesh geometry | 102 x 177 mm (+/- 3%) |
| No. of meshes transversal | 9.8 pcs/m |
| No. of meshes longitudinal | 5.6 pcs/m |
| STEEL WIRE | |
| --- | --- |
| Wire diameter | 4 mm |
| Total height of mesh three-dimensional | 15 mm (+/- 1 mm) |
| Tensile strength of steel | min. 1770 N/mm2 |
| Material | High-tensile steel wire |
| Tensile strength of a wire | 22 kN |
| LOAD CAPACITY | |
| --- | --- |
| Punching load 300 x 300 mm plate | 105 kN (according to WASM tests) |
| Tensile strength of mesh longitudinal | 190 kN/m |
| MESH ROLLS | |
| --- | --- |
| Mesh edges | Mesh ends knotted |
| Roll width | 1.5 m – 3.5 m |
| Roll length | As per site requirement |
| Total surface per roll | Various |
| Weight per m2 | 2.5 kg/m2 |
| SPECIFICATION | |
| --- | --- |
| Composition | According to mine specific environment |
| Coating weight | According to EN 10264-2 |