THE ECONOMICAL SOLUTION TO DEBRIS FLOW
FOR THE MOST VALUABLE ASSET IN LIFE: OUR SAFETY.
Due to climate change, torrential rainfall and other meteorological events are increasingly being observed in our regions. These and other natural phenomena are resulting in a global increase in debris flows and hence the need to mitigate their destructive potential. Our fl exible ring net barriers made of high-tensile steel wire provide innovative and effi cient protection for both people and infrastructure in at risk regions across the globe. These systems are characterized by their simple designs, short installation times and the discreet way they blend into their surroundings.
WE CAN PROVIDE YOU WITH THE COMPLETE SAFETY PACKAGE.
At your request we can take on the role of consultant, planner and even project manager. Both the solutions we offer and the quality of our customer service is valued by our customers. For us, excellent service is an integral part of every single project. No matter which phase of the project you are in, we will provide you with the support and expertise required to achieve the best results – saving you both time and money.
ALL ROUND CARE
Local contact person
Training and workshops
Rapid inspection and proposed maintenance measures in the event of an incident
PLANNING SUPPORT
Terrain survey and appraisal
Risk assessment and analysis
Solution dimensioning
Tailored planning
APPROVAL
Project survey
Final inspection and approval
Handover to client
IMPLEMENTATION
Staking out of the structure
Specific adjustments
Installation instructions on site
Optional installation
PRODUCTION
Customer specific manufacturing, pre-assembly, and packaging
Personalized delivery schedule
Delivery on time and on budget
CONSULTING
Alternative solutions
Pros and cons
Cost efficiency
SIMPLE DESIGN, FLEXIBLE FUNCTION.
Comparison of conventional channel structures and fl exible ring net barriers
Our ring net barriers are able to withstand high static and dynamic loads. They can be installed with minimal materials and effort, offering considerable savings in terms of cost and construction time. Compared against conventional solutions, which require large-scale earthwork and concrete work on rough terrain, our flexible systems really deliver particularly when it comes to efficiency. Concrete structures are highly susceptible to damage from the high forces that are generated when boulders are dislodged during debris flow.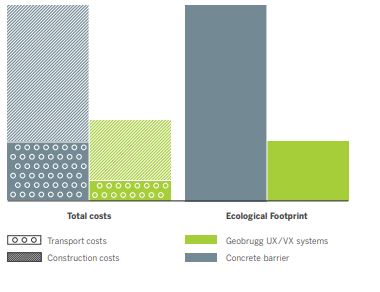 QUALITY YOU CAN RELY ON.
In addition to great durability our flexible ring net barriers ensure that water flows unimpeded. They can also be implemented in several levels behind one another. Ensure to this and the drainage effect of the net, the retention capacity of the solution increases significantly should an event occur, allowing solid material such as scree and drift wood to be reliably held back. Depending on the channel properties we will recommend one of two different types of debris flow barrier systems. The UX series offers debris flow barriers for wider channels. Whereas narrow-cut torrents use the VX system, which span the channel without the need for posts. All our barriers have one thing in common; they have been tested in several 1:1 large-scale field tests and have demonstrated their functional capability.
UX/VX debris flow barriers provide the following features:

Ring net made of high-tensile steel wire
Optimum combination of stability and flexibility. The barrier absorbs high dynamic and static loads, allowing the net to retain its protective effect even when full of debris.

Complete systems tested
Our barriers are the only debris flow protection solutions to have been tested in largescale field tests under an extremely wide range of conditions.
Simple to install
Lightweight components reduce the amount of work required during transport and construction. Difficult earthworks are not required and the barriers are easy to adapt to any terrain, offering both time and cost savings.

DEBFLOW dimensioning tool
Thanks to the quick and efficient dimensioning provided by our special tool, reliable functioning is guaranteed, even with multilevel barriers

Corrosion and abrasion protection
Our corrosion protection concept ensures a long lifetime and low system maintenance costs. At exposed points the ropes are fitted with abrasion protection, which can easily be replaced as necessary
WE DON'T LEAVE SAFETY TO CHANCE.
In order to match our debris flow barriers to anticipated events and channel types, we have worked together with the Swiss Federal Institute for Forest, Snow and Landscape Research (WSL) to carry out extensive laboratory and field tests. These tests have demonstrated that our VX/UX ring net barriers are able to withstand significant debris flow loads.
Based on these test results and practical experience in natural environments, we have developed our DEBFLOW dimensioning software. As part of the project specific consultation process, we work with calibrated simulation programs, which allow both the effects of debris flow on a system as well as the loads caused by rockfalls, avalanches, and snow slides to be mapped.
TECHNICAL DATA:
BARRIER TYPE WITHOUT POSTS
| BARRIER TYPE WITHOUT POSTS | VX060L-H4 | VX080-H4 | VX140-H4 | VX100-H6 | VX160-H6 |
| --- | --- | --- | --- | --- | --- |
| Debris flow pressure | 60 kN/m/hfl | 80 kN/m/hfl | 140 kN/m/hfl | 100 kN/m/hfl | 160 kN/m/hfl |
| Standard installation height* | 4 m | 4 m | 4 m | 6 m | 6 m |
| Standard span width* | 10 m | 15 m | 15 m | 15 m | 15 m |
| Ring net type | ROCCO 7/3/300 | ROCCO 12/3/300 | ROCCO 16/3/300 | ROCCO 16/3/300 | ROCCO 16/3/300 |
| BARRIER TYPE WITH POSTS | UX060L-H4 | UX100-H4 | UX160-H4 | UX120-H6 | UX180-H6 |
| --- | --- | --- | --- | --- | --- |
| Debris flow pressure | 60 kN/m/hfl | 100 kN/m/hfl | 140 kN/m/hfl | 100 kN/m/hfl | 160 kN/m/hfl |
| Standard installation height* | 4 m | 4 m | 4 m | 6 m | 6 m |
| Standard span width* | 25m | 25 m | 25 m | 24m | 24m |
| Post profile | HEB 160 | HEB 200 | HEB 220 | HEB 240 | HEB 260 |
| Ring net type | ROCCO 12/3/300 | ROCCO 12/3/300 | ROCCO 16/3/300 | ROCCO 16/3/300 | ROCCO 16/3/300 |
Teknk verlerde değşklk yapma hakkımız saklıdır.